No, it's not Lord Of The Rings (although they DO look the part!).
Riyadh has only two skyscrapers but they're both spectacular and their isolation makes them stand out all the more, so I figure they deserve to be added to the Links section of my blog (see right-hand side of page).
The Kindgom Tower - which at 300m high completely dominates the Riyadh skyline - is challenged only by the 2nd of Riyadh's two skyscrapers; The Al Faisaliah.
The tower forms part of the Kingdom Centre, which includes shopping malls, offices, apartments, and The Four Seasons Hotel. I haven't visited it yet but I'm looking forward to going, not only for the shopping but I also want to see if I'm brave enough to travel the two elevators up to the Sky Bridge and lie facing down on the diagonal windows overlooking the ground 300m below!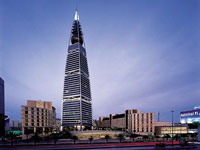 The Al Faisaliah Hotel and Centre also houses both a hotel and shopping mall, and has a restaurant and observation deck within the 3-story globe at the top. I'm told the restaurant rotates; I look forward to being able to confirm that from personal experience! ;)